Myriam Ghali

International Artist
| | |
| --- | --- |
| Over the more than four decades I spent creating art, my art has evolved through research, travel, thinking, laughing, suffering, loving, or simply through a life lived intensely. I do not paint just by accident or happenstance, I paint like I live, in depth, in truth. This is why I cannot delegate the execution of my work to an assistant. I cannot have somebody feel, think or act for me. The process is a long meditation through silence, emotions, evaluation. | The result is an action propelled from the inside which engenders the sensual approach found in my creation. I like the smell of paint and the texture of the paper, canvas, and objects used in my work. My art needs to be touched, felt. Abstract or figurative, it's the texture of life that impacts my work and makes it moving to many people. You will find on this site just a few samples from my ample collection. |
| | |
| --- | --- |
| Myriam, a painter of international renown, learned her craft with the Italian masters at the Fine Arts Academy in Rome. Soon after graduating, she was awarded a commission to paint icons for the Vatican - the only woman to have ever earned this privilege. | Since her days in Italy, Myriam's art has evolved and matured through mystical research and exploration. From the solid bases of her classical training, her art has become more abstract while retaining its essential technical qualities and color harmony. |
What the critics are saying...
"Myriam Ghali's work delights the mind and the eye. Her paintings are magically evocative, richly personal (...). Bonnard's enrichments of hue and shape from exterior gardens blend with Matisse-like mastery of uninhibited poetic color."
Howard Derrickson, West End Word, St. Louis.
"The flowers (in Myriam's paintings) that could just as well have been gold, frankincense, or myrrh are praises to God. The flowers are the focal point of a lyrical abstraction."
Claude Desjardins, Journal de Laval, Canada.
"This is exactly what defines the uniqueness of Myriam's work: the universal language of poetic moments that bridge the continents."
Italo Bataglia, Universita Cą Foscari, Venice, Italy. Read more from Italo, in French.
Myriam Ghali's works are in public and private collections in Europe, North America, Asia, and Africa. Public collections include Vatican City; Citadella di Assisi, Italy; Ministery of Education, Rome, Italy; King Fahd Airport, Saudi Arabia; Hotel International, United Arab Emirates; Presidential Palace, Lebanon; Central Bank, Lebanon; St Raymond's Church, St. Louis, Missouri.
As this site is updated periodically, other themes the artist has explored will be added.
Questions or comments? and we'll get back to you promptly.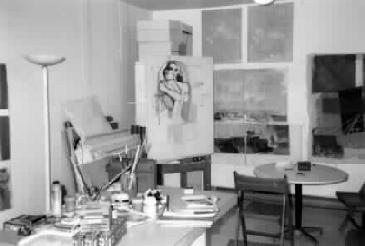 The artist's studio.

Dealer inquiries welcome
Content of this site is copyrighted.
No unauthorized use, reprodution, or distribution allowed.